Kazehito Seki (voice) + Pedro Lopes (turntable percussion)
Kazehito and Lopes, at Madame Claude, Berlin 2015.
1. Duet at Tokyo Noise Festival in Zurich [also played at Madame Claude and Ausland in Berlin]
Together Kazehito and Pedro remind us how far our ears have been falsely washed by electronic devices: often when you hear Kazehito you imagine subtractive synthesizers and digital filters, which in fact are not there, we have forgotten how flexible and fast vocal chords are. Similarly, when we hear and see Pedro play it becomes hard to believe there is no single chip, no digital processing. We imagine  digital filters, drum-machines and effects processors but the reality he is just drumming on small microphones, of the very sensitive kind, called needles.
2.  a (human) resonating body: multi-microphone solo by Kazehito Seki, designed by Pedro Lopes [premier at Spektrum Berlin]
When people think of experimental sound, noise, drones, pushing the boundaries of musical composition in real-time, they rarely think of "voice". However, Kazehito Seki's work is a canonical example of pushing the envelope with his own voice, nothing else. Indeed it sounds electronic at times, but that is a byproduct of how everything in one's body can be used as a resonating chamber for producing new sounds. In a special solo performance, Kazehito will extend his wide vocal range to his body. Microphones of various kinds (surface transducers, muscle microphones, throat) will be attached to Kazehito's body, allowing him to acoustically explore the whole space around him. This performance was designed in collaboration with Pedro Lopes (microphone design and placement, software and hardware).
////////////////////////////////////////////////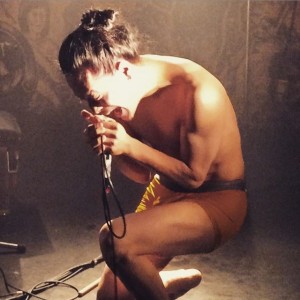 Kazehito Seki is a Voiz (Organic Voice Noise) performer who seeks for the sharpest sound by running about between Noise (Abstract / Nerves) and Hardcore (Concrete / Muscle). Kazehito belongs to a particular scene in Japan, influenced by hardcore music, subculture, and what a western would see as Tokyo's sonic ghetto culture. Kazehito's approach to the voice as an instrument demonstrates his flexibility, oscillating between subtle sinewaves and brutal white noise in a microsecond, like this.
For more than 10 years,  Kazehito has been fusing his voice with electronic noises. Then in 2012, joined in a Voiz group called Toyko Voiz Choir organaised by William Tokuhisa, and toured in Korea with his two bands: Omawarisan and Ameri B.C. Nowadays, besides his solos and various bands, he collaborates with various kinds of artists including musicians and dancers. He also teaches training and keeping the voice safe, because after all — the voice is and was (always) the primordial instrument.
////////////////////////////////////////////////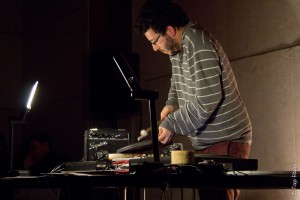 Pedro Lopes  is a resident musician in Berlin, with a vast curriculum of collaborations with people such as Reinhold Friedl, Dj Sniff, Carlos Zíngaro, Gabriel Ferrandini, Manuel Mota, and many others; furthermore, its a path enriched by radio art works displayed at Transmediale, Serralves Foundation, or  Goethe Institut.
Pedro makes of his instrument, the turntable, a vessel for a experimentation discourse, of analogue tone, often recurring to amplifiers, DIY pressed records, modified needles and percussive objects. Pedro Lopes is one the most interesting and innovative representatives of the exploratory music of Portugal.  See/hear pedro.